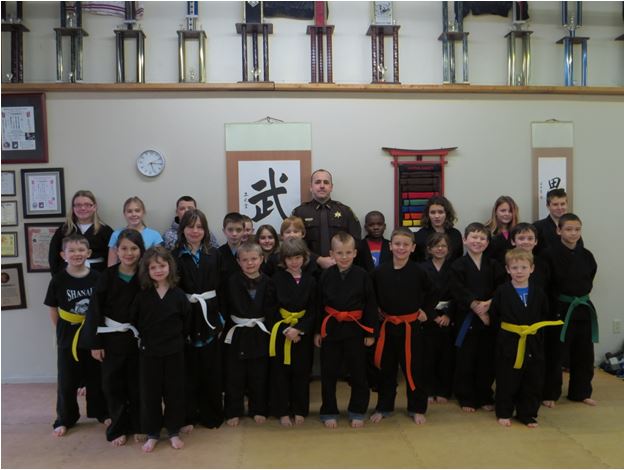 (Officer Brian Lawson pictured with Shanaki Martial Arts After School Students)
"WYTHE DEPUTY VISITS MARTIAL ARTS CLASS"
     Officer Brian Lawson, a thirteen-year law enforcement veteran, spoke with Shanaki Martial Arts After School Students on the importance of maintaining positive character, knowing and following the law, and understanding the overall role of police officers. 
     Much of Officer Lawson's presentation focused on bringing to light the pitfalls of drug and alcohol abuse, and explaining the various types of dangerous drugs (prescription vs. street) that today's youth may encounter.  He discussed how to recognize and avoid individuals who might be involved in illegal drug related activity.  With emphasis on making the wise choice of friends, he also spoke about the traps of peer pressure and becoming guilty by association.  Other paramount topics covered in the program were school safety, bullying, safety belt usage, and not being fearful of law enforcement officials.  
     Officer Lawson is currently assigned to the Wythe County Sherriff Department's Highway Safety Unit.  He is also a Master Firearms Instructor, and is a member of the Department's Tactical Response Team.
SPECIAL THANKS TO OFFICER LAWSON AND THE WYTHE COUNTY SHERRIFF DEPARTMENT!
---
CONGRATS JAMIE & ALEX! 
SHANAKI MARTIAL ARTS STUDENTS WIN IN SOUTH CAROLINA! 
     At the recently held Universal Martial Arts Championships in Lancaster, SC Jamie Pennington and her daughter Alex took home top honors in their respective divisions.  Jamie is a Second Level Brown Belt student and an Apprentice Instructor at Shanaki Martial Arts Studios in Wythveille.  Jamie ousted the competition to take home a First place win in Fighting and another First in Open Forms (Kata).  Competing against Black Belt men, Jamie also won Second place in the Breaking division and Third in Traditional Forms.  Alex, a Blue Belt at Shanaki, won Second place in youth Board Breaking, and Fourth in Open Forms competition.
      "Jamie epitomizes what Shanaki is all about.  She's been with us approximately eight years now.  She's extremely loyal, respectful, and hardworking", says Master Scot Shannon (Shanaki owner and coach).
     From fellow students and staff at Shanaki, a special congratulations and thanks go out to Jamie and Alex for their wins, their continuous drive, and for always representing the team honorably.
(Jamie and Alex were the only Shanaki Team Members to attend this tournament)        
---
 SHANAKI MARTIAL ARTS STUDENTS WIN BIG!
     Eleven members of Team Shanaki Martial Arts recently competed at the MASMAL PRO AM MARTIAL ARTS CHAMPIONSHIPS in Roanoke, VA.  Going up against some 250 other competitors, including nationally ranked teams from the states of VA, WV, MD, DC, NC, TN, and OH, Team Shanaki accumulated 8 first place wins, 8 second places, and 6 third places.  Students contended in the divisions of Fighting, Weapons, and Kata.  Each of Shanaki's team members placed in the top three positions in all of their respective divisions.  Many of Shanaki's students had to compete against one another in the same divisions.  
     A special congratulations to the following Team Members:  Aiden Adkisson, Parker Akers, Samantha Burris, Zachary Gonzales, Emmanuel Johnson, Brianna Lawson, Maria Malavolti, Jayla Morgan, Keagan Morgan, Dillon Schafer, and Tray Thomas.    
---
 CONGRATS!
SHANAKI STUDENTS TAKE HOME HONORS 
      Thirteen members of the Shanaki Martial Arts competition team attended the "Open Martial Arts Championships" in Tazewell, VA.  Testing their skills against approximately 200 other competitors from surrounding states, including VA, WV, KY, NC, TN, and OH, Team Shanaki accumulated 21 first place wins, 4 second places, 3 third places, and the overall Tournament Grand Championship.  Students competed in Weapons, Kata (form, or pre-planned fight routine), and open fighting.  Each member, who competed, landed in the top three places of each their respective divisions.  "More than the physical capability that our students displayed, I was most impressed with their attitude, sportsmanship, and overall character.  All of our team members conducted themselves with utmost respect and integrity", states Master Scot Shannon.
     Team Shanaki students attending the tournament are as follows:  Andrew Busha (2nd Kata, 3rd, Fighting), Kayla Demers (1st Kata, 1st Fighting), Katie Early (1st Kata, 1st Weapons, 1st Fighting), Emily Hill (1st Kata), Logan Hurley (2nd Kata, 3rd Fighting), Benjamin Johnson (1st Kata, 1st Weapons, 1st Fighting), Jacob Johnson (1st Kata, 1st Weapons, 1st Fighting), Karis Johnson (1st Kata, 1st Fighting), Tyler Johnson (3rd Kata, 1st Fighting), Maleeah Kirtner (1st Kata, 1stFighting), Keagan Morgan (1st Kata, 2nd Fighting), Payton Totten (2nd Kata, 1st Fighting), and Black Belt Master Shawna Shannon (1st Weapons, 1st Kata, and overall Grand Champion).      
---
Belt Ranking - May 2012 
"PERFECTING THE ART"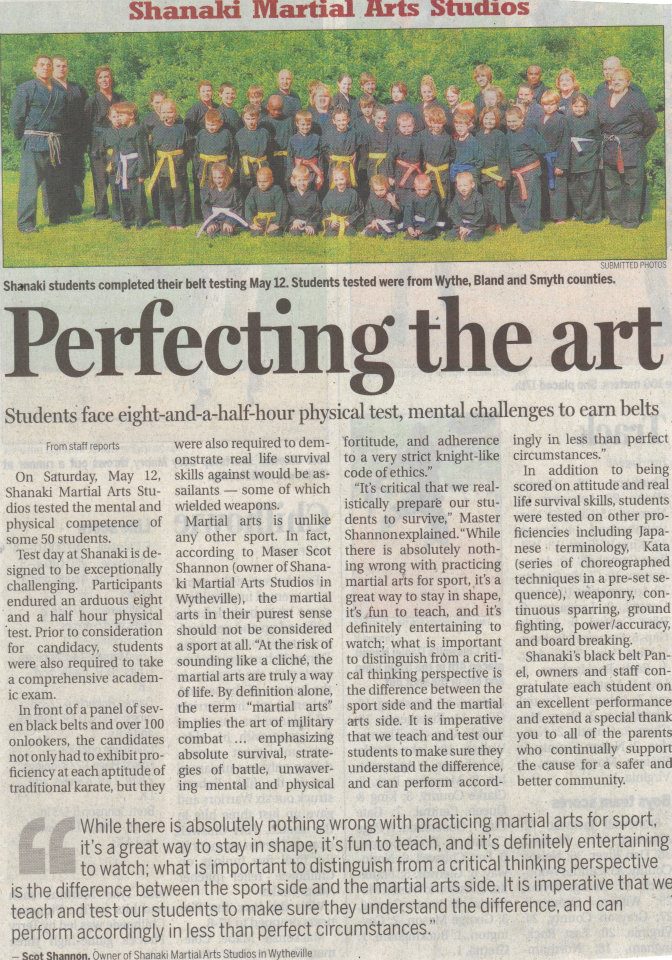 On Saturday, May 12th, Shanaki Martial Arts Studios tested the mental and physical competence of some fifty students.  Test day at Shanaki is designed to be exceptionally challenging.    This past Saturday, participants endured an arduous eight and a half hour physical test.  Prior to consideration for candidacy, students were also required to take a comprehensive academic exam.  In front of a panel of seven Black Belts and over 100 onlookers, the candidates not only had to exhibit proficiency at each aptitude of traditional karate, but they were also required to demonstrate real life survival skills against would be assailants - some of which wielded weapons.                     
     The Martial Arts is unlike any other sport.  In fact, according to Maser Scot Shannon (owner of Shanaki Martial Arts Studios in Wytheville), the martial arts in their purest sense should not be considered a sport at all.  "At the risk of sounding like a cliché, the martial arts are truly a way of life.  By definition alone, the term "martial arts" implies the art of military combat... emphasizing absolute survival, strategies of battle, unwavering mental and physical fortitude, and adherence to a very strict knight-like code of ethics".  In contrast, sport martial arts such as cage fighting, tournament competition, and Olympic style karate all take place in a controlled arena with set rules and regulations enforced by a sanctioning organization and overseen by trained referees.  There are no environmental challenges, no weapons involved, no multiple attacker situations, no cheating.  This is certainly not the case in a real life street fight.  However, with the ever growing popularity of Mixed Martial Arts (MMA), more and more young students are flocking to training centers with hopes of becoming the next Ultimate Fighter.  "While it's been good for our business, there's a distinct danger of instilling a false sense of security in students", states Master Scot.              
     "It's critical that we realistically prepare our students to survive", Master Shannon explains.  "While there is absolutely nothing wrong with practicing martial arts for sport , it's a great way to stay in shape, it's fun to teach, and it's definitely entertaining to watch, what is important to distinguish from a critical thinking perspective is the difference between the sport side and the martial arts side.  It is imperative that we teach and test our students to make sure they understand the difference, and can perform accordingly in less than perfect circumstances".
     In addition to being scored on attitude and real life survival skills, students were tested on other proficiencies including Japanese terminology, Kata (series of choreographed techniques in a pre-set sequence), Weaponry, Continuous Sparring, Ground Fighting, Power/ Accuracy, and Board Breaking.  
     Shanaki's Black Belt Panel, Owners, and Staff congratulate each and every student on an excellent performance, and extend a special thank you to all of the parents who continually support the cause for a safer and better community.