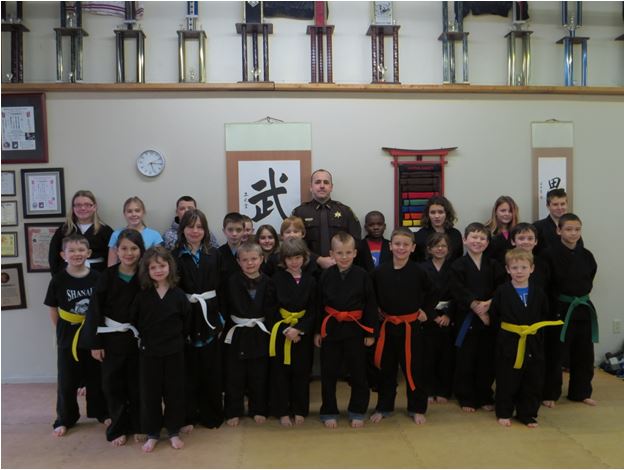 (Officer Brian Lawson pictured with Shanaki Martial Arts After School Students)
"WYTHE DEPUTY VISITS MARTIAL ARTS CLASS"
     Officer Brian Lawson, a thirteen-year law enforcement veteran, spoke with Shanaki Martial Arts After School Students on the importance of maintaining positive character, knowing and following the law, and understanding the overall role of police officers. 
     Much of Officer Lawson's presentation focused on bringing to light the pitfalls of drug and alcohol abuse, and explaining the various types of dangerous drugs (prescription vs. street) that today's youth may encounter.  He discussed how to recognize and avoid individuals who might be involved in illegal drug related activity.  With emphasis on making the wise choice of friends, he also spoke about the traps of peer pressure and becoming guilty by association.  Other paramount topics covered in the program were school safety, bullying, safety belt usage, and not being fearful of law enforcement officials.  
     Officer Lawson is currently assigned to the Wythe County Sherriff Department's Highway Safety Unit.  He is also a Master Firearms Instructor, and is a member of the Department's Tactical Response Team.
SPECIAL THANKS TO OFFICER LAWSON AND THE WYTHE COUNTY SHERRIFF DEPARTMENT!
---
CONGRATS JAMIE & ALEX! 
SHANAKI MARTIAL ARTS STUDENTS WIN IN SOUTH CAROLINA! 
     At the recently held Universal Martial Arts Championships in Lancaster, SC Jamie Pennington and her daughter Alex took home top honors in their respective divisions.  Jamie is a Second Level Brown Belt student and an Apprentice Instructor at Shanaki Martial Arts Studios in Wythveille.  Jamie ousted the competition to take home a First place win in Fighting and another First in Open Forms (Kata).  Competing against Black Belt men, Jamie also won Second place in the Breaking division and Third in Traditional Forms.  Alex, a Blue Belt at Shanaki, won Second place in youth Board Breaking, and Fourth in Open Forms competition.
      "Jamie epitomizes what Shanaki is all about.  She's been with us approximately eight years now.  She's extremely loyal, respectful, and hardworking", says Master Scot Shannon (Shanaki owner and coach).
     From fellow students and staff at Shanaki, a special congratulations and thanks go out to Jamie and Alex for their wins, their continuous drive, and for always representing the team honorably.
(Jamie and Alex were the only Shanaki Team Members to attend this tournament)        
---
 SHANAKI MARTIAL ARTS STUDENTS WIN BIG!
     Eleven members of Team Shanaki Martial Arts recently competed at the MASMAL PRO AM MARTIAL ARTS CHAMPIONSHIPS in Roanoke, VA.  Going up against some 250 other competitors, including nationally ranked teams from the states of VA, WV, MD, DC, NC, TN, and OH, Team Shanaki accumulated 8 first place wins, 8 second places, and 6 third places.  Students contended in the divisions of Fighting, Weapons, and Kata.  Each of Shanaki's team members placed in the top three positions in all of their respective divisions.  Many of Shanaki's students had to compete against one another in the same divisions.  
     A special congratulations to the following Team Members:  Aiden Adkisson, Parker Akers, Samantha Burris, Zachary Gonzales, Emmanuel Johnson, Brianna Lawson, Maria Malavolti, Jayla Morgan, Keagan Morgan, Dillon Schafer, and Tray Thomas.    
---
 CONGRATS!
SHANAKI STUDENTS TAKE HOME HONORS 
      Thirteen members of the Shanaki Martial Arts competition team attended the "Open Martial Arts Championships" in Tazewell, VA.  Testing their skills against approximately 200 other competitors from surrounding states, including VA, WV, KY, NC, TN, and OH, Team Shanaki accumulated 21 first place wins, 4 second places, 3 third places, and the overall Tournament Grand Championship.  Students competed in Weapons, Kata (form, or pre-planned fight routine), and open fighting.  Each member, who competed, landed in the top three places of each their respective divisions.  "More than the physical capability that our students displayed, I was most impressed with their attitude, sportsmanship, and overall character.  All of our team members conducted themselves with utmost respect and integrity", states Master Scot Shannon.
     Team Shanaki students attending the tournament are as follows:  Andrew Busha (2nd Kata, 3rd, Fighting), Kayla Demers (1st Kata, 1st Fighting), Katie Early (1st Kata, 1st Weapons, 1st Fighting), Emily Hill (1st Kata), Logan Hurley (2nd Kata, 3rd Fighting), Benjamin Johnson (1st Kata, 1st Weapons, 1st Fighting), Jacob Johnson (1st Kata, 1st Weapons, 1st Fighting), Karis Johnson (1st Kata, 1st Fighting), Tyler Johnson (3rd Kata, 1st Fighting), Maleeah Kirtner (1st Kata, 1stFighting), Keagan Morgan (1st Kata, 2nd Fighting), Payton Totten (2nd Kata, 1st Fighting), and Black Belt Master Shawna Shannon (1st Weapons, 1st Kata, and overall Grand Champion).      
---
Belt Ranking - May 2012 
"PERFECTING THE ART"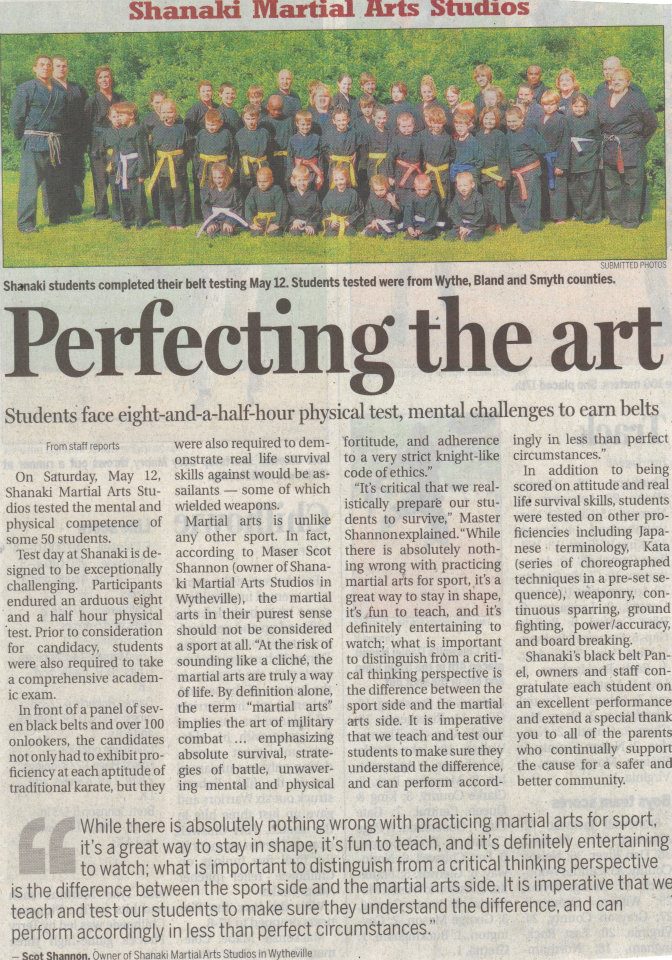 On Saturday, May 12th, Shanaki Martial Arts Studios tested the mental and physical competence of some fifty students.  Test day at Shanaki is designed to be exceptionally challenging.    This past Saturday, participants endured an arduous eight and a half hour physical test.  Prior to consideration for candidacy, students were also required to take a comprehensive academic exam.  In front of a panel of seven Black Belts and over 100 onlookers, the candidates not only had to exhibit proficiency at each aptitude of traditional karate, but they were also required to demonstrate real life survival skills against would be assailants - some of which wielded weapons.                     
     The Martial Arts is unlike any other sport.  In fact, according to Maser Scot Shannon (owner of Shanaki Martial Arts Studios in Wytheville), the martial arts in their purest sense should not be considered a sport at all.  "At the risk of sounding like a cliché, the martial arts are truly a way of life.  By definition alone, the term "martial arts" implies the art of military combat... emphasizing absolute survival, strategies of battle, unwavering mental and physical fortitude, and adherence to a very strict knight-like code of ethics".  In contrast, sport martial arts such as cage fighting, tournament competition, and Olympic style karate all take place in a controlled arena with set rules and regulations enforced by a sanctioning organization and overseen by trained referees.  There are no environmental challenges, no weapons involved, no multiple attacker situations, no cheating.  This is certainly not the case in a real life street fight.  However, with the ever growing popularity of Mixed Martial Arts (MMA), more and more young students are flocking to training centers with hopes of becoming the next Ultimate Fighter.  "While it's been good for our business, there's a distinct danger of instilling a false sense of security in students", states Master Scot.              
     "It's critical that we realistically prepare our students to survive", Master Shannon explains.  "While there is absolutely nothing wrong with practicing martial arts for sport , it's a great way to stay in shape, it's fun to teach, and it's definitely entertaining to watch, what is important to distinguish from a critical thinking perspective is the difference between the sport side and the martial arts side.  It is imperative that we teach and test our students to make sure they understand the difference, and can perform accordingly in less than perfect circumstances".
     In addition to being scored on attitude and real life survival skills, students were tested on other proficiencies including Japanese terminology, Kata (series of choreographed techniques in a pre-set sequence), Weaponry, Continuous Sparring, Ground Fighting, Power/ Accuracy, and Board Breaking.  
     Shanaki's Black Belt Panel, Owners, and Staff congratulate each and every student on an excellent performance, and extend a special thank you to all of the parents who continually support the cause for a safer and better community.           
---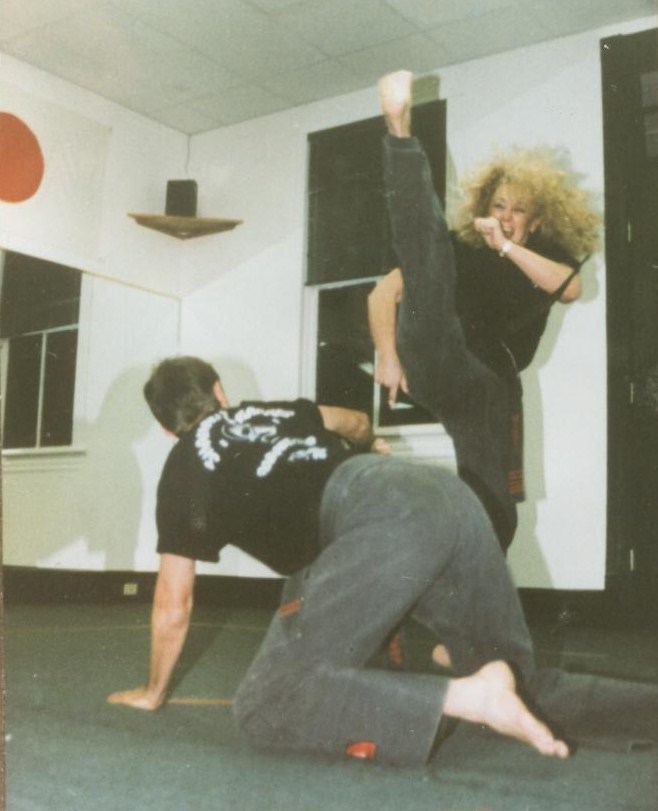 GRANDMASTER PENNY SHANNON
of SHANAKI MARTIAL ARTS
RECEIVES WOMAN OF THE DECADE AWARD
     Saturday, August 20th in Myrtle beach, SC Grandmaster Penny Shannon was honored as the Female Martial Arts Instructor of the Decade by the North American Sports Karate Association (NASKA).  NASKA is the most widely recognized and most prestigious sanctioning body of martial arts tournaments in the world.  Scores of renowned martial arts actors including Taylor Lautner, from the Twilight saga, are bi-products of this organization. 
     The call came as a complete surprise to Master Shannon.  When Penny was initially contacted by Master Dewey Earwood, a representative and international event promoter for NASKA, she assumed it was a simple social call to reminisce about times past.  However, he was calling to let her know that she had been nominated as the Woman of the Decade for her innovations and the timeless impact she had made in the world of professional martial arts.  According to Mr. Earwood in his introduction speech, "In the time of a male dominated sport, when traditional martial arts ruled the game, Master Penny Shannon and her elite competition team ushered in a new era.  As she truly set the bar and challenged professional competitors around the nation to become better, Mrs. Shannon's modernization and stylistic influence has helped cultivate the sport into what it is today". 
     Penny's incomparable success as a trainer and coach falls second only to her accomplishments as a, behind-the-scenes, societal advocate.  Aside from producing National and World Champions, Master Shannon's primary focus throughout her career has been making a positive and lasting impact on individual people and offering something back to the community in which she resides.  Penny has donated countless hours to community causes such as developing and overseeing Big Brother/ Big Sister Mentoring Programs, working with abused women's groups, leading exercise and motivational classes for the elderly, conducting inspirational courses for the mentally and physically challenged, working with institutionalized and underprivileged teens, and partnering with area law enforcement just to name a few. 
     In brief summary of her life philosophy Master Penny states, "This life isn't a popularity contest... it doesn't matter what others think, and it doesn't matter how many toys or money you have when you die.  All that matters are what you leave behind, the difference you've made on the world, and the whether your existence has had a negative or positive influence on others you've met along the way".  
---
PAST BELT RANKING
   SHANAKI MARTIAL ARTS STUDIOS STUDENT GRADUATION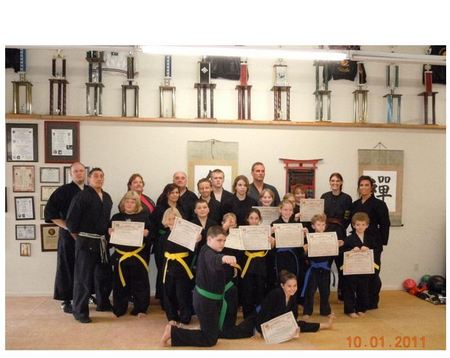 On October 1st, Shanaki Martial Arts Studios hosted its biannual belt ranking exam.  "Although this test consisted of only a small group of students due to scheduling conflicts, it was certainly one of the best overall performances", stated Master Scot Shannon.   
     Selection for candidacy is not automatic, nor is passing.  Both are considered an honor by Shanaki students. In the traditional Japanese martial arts system of Shotokan Karate, the changing of one's belt color is cyclical in nature and signifies the gain of experience and wisdom.  In example, the beginner student starts as a white belt.  With time and training, the student's belt becomes soiled and grows darker.  Evolving through the various shades of gray and brown, the student's belt eventually becomes black.  Shanaki students understand that achieving the rank of Black Belt is not the end of their journey, but merely the beginning.  Once the belt darkens to black through years of handling, the stains begin to wear off and it fades back to white as the student continues along the path.
     During their approximate six-hour physical test, candidates were required to demonstrate proficiency in various aspects of Shotokan Karate along with various other martial arts disciplines.  Some elements included on the test were continuous sparring and reality street defense, grappling, traditional and freestyle forms, weaponry, multiple attacker defense, Japanese terminology, power striking, and board breaking.  
     At Shanaki, thorough academic understanding, theory, and practical application of the martial arts are emphasized as much as physical prowess.  "We want our students to be more than just trained monkeys or simple barroom brawlers. We want them to be martial artists in the truest sense.  They must comprehend the history and science behind the various arts we teach.  We want them to know that they don't have to prove anything to anyone, and that there are specific consequences or benefits for every action and choice they make in life".
     Shanaki would like to extend "congratulations and a special thanks to each student and parent for their dedication, perseverance, continued loyalty and support".    
---
BLACK BELT PROMOTIONS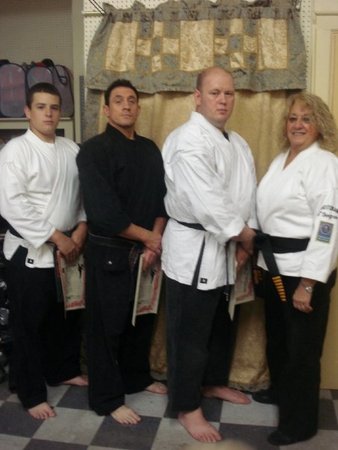 Grandmaster Penny Shannon would like to proudly announce the promotions of Scot Shannon to 7th Dan, Jason Gulllion to 6th Dan, and Trey Warden to 3rd Dan.  Well done, thanks for your continued loyalty and dedication.
---
BLACK BELT HALL OF FAME INDUCTION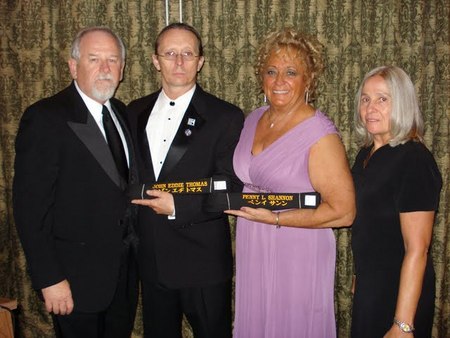 Pictured from left to right:  Supreme Grandmaster William Rankin, Grandmaster Eddie Thomas,
Grandmaster Penny Shannon, and Mrs. Rankin
Harpers Ferry, WV... Grandmaster Penny Shannon was promoted to her 8th Degree Black Belt by Supreme Grandmasteer (10th Degree) William Rankin.  Master Rankin is the Founder and President of the International Black Belt Hall of Fame.  Penny was also inducted into the U.S. division of the International Black Belt Hall of Fame for "Legend of the Year".  This makes Grandmaster Penny's third induction to date.
     Mrs. Shannon now holds an 8th Degree Black Belt under Grandmaster Rankin, a 7th Degree Black Belt Belt in Shotokan Karate under 9th Degree Grandmaster Eddie Thomas Eddie Thomas, 6th Degree in Shotokan and 2nd Degree Black Belt in Kobudo (Martial Weaponry) under Grandmaster Marc Cantrell.  She also holds 1st Degree Black Belts in Tae Kwon Do, Shorinji-Ryu, and American Freestyle Karate.  Additionally, she has extensive crossover training in Aikido, Wing chung, Wushu Kung Fu, Kali, Arnis, Kick Boxing, and Submission Grappling among many other styles.  She has trained under some of the world's most renowned martial arts experts.
     Master Shannon has produced one World Champion and twenty-four number one nationally rated martial arts competitors.  She has trained four National Olympic Qualifiers along with multiple state and regional sport karate champions.  She is a Certified Olympic Coach and Referee as well as a Certified North American Sport Karate National Team and Referee.
     Her training expertise was recognized by the World Martial Arts Organization and she was chosen to represent the U.S. National Martial Arts Team at the World Martial Arts "World Cup" in Honolulu, Hawaii.
     In recognition of her accomplishments and contributions in the martial arts world and to the community at large, Grandmaster Shannon is now a three-time inductee into the International Black Belt Hall of Fame.  Other published recognition includes Woman's World Magazine, Police Magazine, Karate/ Kung Fu Illustrated, Black Belt Magazine, and Sport Karate Illustrated.  She has also been a guest on the National Talk Show "In Focus".  Master Penny is an appointee to the National Congressional Business Advisory Council.   
---